NearStar ATOM is a web application that provides automated and manual tracking capabilities through a variety of input. Most tracking events take place behind the scenes as ATOM gathers data from the enterprise output management system, printers, mail inserters, and addressing software or other collection points defined by the customer. However, ATOM is also flexible and provides the capability to receive manual input from scanning stations throughout the fulfillment process.
Since most print operations are unique, ATOM tracking is fully configurable to meet the customer's criteria and is adjustable as requirements change. Effectively and efficiently, data is displayed in a consolidated dashboard (see figure 1) that reports job tracking statuses at configurable time intervals. Operators and managers can view the projected workloads in near real time and make any needed adjustments quickly.
The dashboard displays the most common job queries, but sometimes filtering on only one criterion is not enough. Individual Jobs may be queried in the tracking system using multiple criteria at the same time. For example, jobs can be filtered by tracking ID, order ID, job name, status, tasks pending, received time ranges and SLA time ranges.
Figure 1: ATOM Dashboard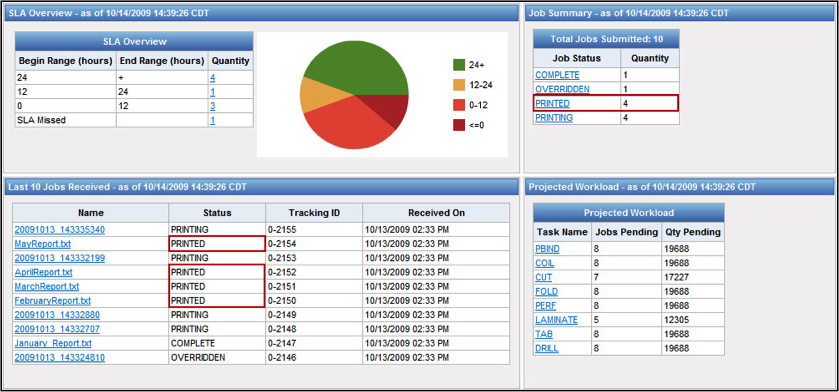 Each view has a hyper-linked field for drilling down to the list of jobs that fall into that category. If you click on the quantity field of the SLA view, you will be taken to the View Jobs screen that lists only those jobs in the date range specified. If you click on the job status, you will get a list of jobs in that state. If you click on the job name in the Recent Jobs view, you will get a Job Details screen for that job. Clicking on a task name in the Projected Workload screen will get you a list of jobs waiting on that finishing task.